Post by Owen Gonsalves on Sept 17, 2015 8:55:40 GMT -6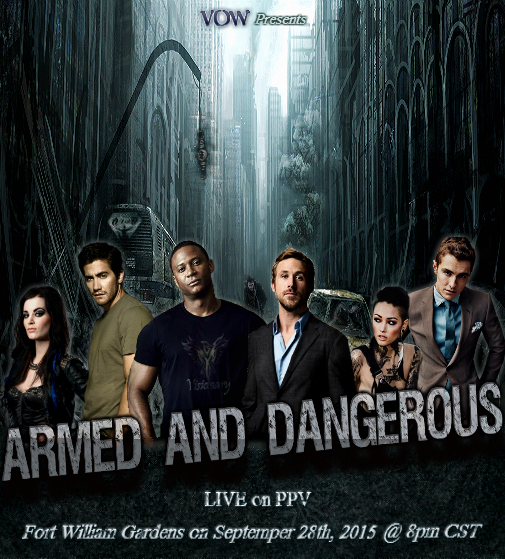 Live from Fort Williams Gardens in Thunder Bay, Ontario, Canada!
RP Deadline: Friday, September 25th @ 11:59:59 PM CST

---------------------------------------------------------
Preshow Special
- Fatal Four Way Match -
Kincaid
Vs.
Heath Williams
Vs.
Slick Williams Vs. Duncan McAlistair
Four men who have been battling in the past weeks to impress the VOW authorities and fans will have one last shot to prove themselves. 2 have already gotten wins while the other 2 aim to get their first in a big way. Who will prove their worth and rise up the ladder in the race for the Zero Gravity Championship?


Opening Match
- Standard Singles Match -
Calvin Harris Vs. Matt Slater

It's official, he's back! It was revealed to the world at Breakthrough #33 that "The Silver Knight" Matt Slater would be returning to the world of professional wrestling and specifically, VoW! After his constant nagging about wanting a bigger, better opponent, Sky Sangue finally "rewarded" Calvin Harris with his toughest challenge to date if not ever in Slater. Will Slater prove that he's still got it? Or Will The Martyr reign on his illustrious return and prove the whole world wrong?


- Standard Singles Match -
Alec Rose
Vs.
StuFish.pif
The bloodthirsty Stu nearly got his way at Breakthrough #33 when he came close to grating the face of upstart Ethan Sinn with a barbwire bat after their singles match. If it wasn't for Alec Rose, that may have been the case. Rose came out, saving Sinn and immediately made it known with hand gestures that he wasn't pleased with Stu's attempt to maim a man he had respect for and challenged him to a match at this PPV. It'll be a battle between two of VoW's tech savvy warriors, will Rose shut down The Glitch In The System? or will he feel the wrath of The Blue Screen?
- Standard Singles Match -
Owen Gonsalves
Vs.
Ace Watson
A rivalry that dates back years before the birth of VoW is reunited as Owen had saved Tyler Storm from a post match beatdown by Scarlet Flint and Ace after Storm had defeated Ace at Breakthrough #31. The save had struck a nerve, apparently as Watson would lash out verbally later on, spitting on Owen's career. Owen remained semi-silent on the matter but there wouldnt be a silence for long as Ace had cost him the win against Flint in singles action on Breakthrough #33 and then was attacked afterwards. Owen had immediately requested a match with Ace once recovering.
- Standard Singles Match -
(Zero Gravity Championship on the line!)
Tyron Bickerton
Vs.
Zakk Morris
The outspoken Zakk Morris had finally had enough of the "treatment" he claimed he had been recieving from VoW management and had mentioned his eyes being firmly set on the Zero Gravity Title. This would become official at Breakthrough #32 when had issued a challenge to the then champion Cameron Behringer. However at Breakthrough #33, Behringer was beaten and bloodied violently by a angered Matt Robinson during their match and was immediately ruled unable to compete for the match and the belt was declared vacant. Morris would now have no opponent at the PPV. Enter Tyron Bickerton. Bickerton was supposed to have his own rematch against Brett Carson but at #33, Carson announced he has torn the labrum in his shoulder and would be out for 6 months at least. This meant Bickerton also didnt have an opponent. So Sky Sangue would then make the match, as both Bickerton and Morris have impressed they will face off to crown a new VoW Zero Gravity Champion!
- I Quit Match -
Matt Robinson
Vs.
Seifer Black
"The Punisher" Matthew Robinson would make his surprise debut in one of the main events of the biggest show VoW has ever presented, Fate of The Gods, attacking his ex-wife Stacy Jones. This immediately struck a chord with her brother, Seifer Black and matters only got worse when Robinson had laid out Seifer's friend and manager Theodore Thompson. After grueling weeks of back and forth trash talk and mind games a match would come about at Heatstroke to which Seifer Black was victorious, but the topic wouldnt be over and the two would continue their war of words and in recent shows fists all the way up to Breakthrough #32 where it would be announced that they'd have their second match and the only way Robinson or Seifer would lose is by saying the words, "I Quit"!
- Handicap Match -
(Twin City Championships on the line!)
Shay McClure (c)
Vs.
Cera & Dathyn
A match that could've been an amazing tag team match could turn into a similarly ironic situation to how the current champions The Gang Stars, or in this case Shay McClure had won their championships. Jermaine Brown and Shay McClure defeated the partnerless Mattaki Fukushuu for the titles in a Handicap situation and now their tag team will have the same problem to face. With the disappearance of Jermaine Brown, and Shay McClure not stating where he went or what's wrong with. VoW is left with no other choice but to have Shay go it alone in his defense against two of the most dangerous Visionaries on the roster. Can McClure possibly pull the biggest win for his tag team? Or will he see the similar fate to Mattaki Fukushuu and fall to Cera and Dathyn?
- Submissions Match -
(Xcel[lent] Championship on the line!)
Ryder Blade (c)
Vs.
Stacy Jones
It's the rematch everyone has wanted to see. Stacy Jones earned it after she was royally screwed, for lack of a better word, by Ryder Blade's Xcellent bro, Steve Herring returning...Sky Sangue would make her prescence known and book the rematch anyway despite the original stipulation being if Ryder and Brett Carson defeated Stacy and Tyron Bickerton, Stacy would not get her rematch for the title. There's plenty on the line here as the longest reign as Xcel Champion is held by Stacy at 126 days, and with Ryder just recently crossing the 100 day mark a loss to Jones would mean her record stays in tact. However if Ryder is going to want to walk out with a record breaking reign...he's going to have to make Stacy tap out or pass out in the Submissions Match!
- Standard Singles Match -
Seth Iser
Vs.
Patrick Jones
A match between two men who have a storied history with one another, both men having been apart of the same company but very rarely touching bases for many, many years. Through the past few months there's been interactions and words traded between the two and now they both aim to beat the hell out of the other to settle any long standing issues they may have. One side seeks rising to the next level. The other seeks atonement. Only one can get their way. Which TEW alumni will gain the victory over the other?


- Wall of Woe Match -
(I4NI Championship on the line!)
Tyler Storm (c) Vs. Scarlet Flint

This is one of the most personal, blood boiling feuds since the war we saw with Seth Iser/Owen Gonsalves earlier in the year. It all stemmed back to Heatstroke where Tyler Storm would win the Quest for The Case, beating out 5 other competitors including Scarlet Flint. Flint would make it known she dislikes Tyler with many promos directed towards him, once it was revealed at Breakthrough #30 that the inside the case was a new belt that encouraged violence called the I4NI Championship, a handful of Visionaries would stake their claim in wanting to recieve a title show, among them being Ace Watson. Flint would attack Storm after his defense against Watson and stake her claim for the belt again but it would be at Breakthrough #33 where everything would hit the fan. An announcement early in the show would be made that Storm would defend his title against Flint in some sort of violent match. Later on in the show, Tyler Storm's wife and co-host of the Nitro-Lawson Report, Zelda Lawson would be attacked by a mystery figure along with Stacy. Word would get to Storm who immediately realised who it was and thus demanded Sky tell him what their match was...and then it was made it clear that they would go to war in only the 2nd ever Wall of Woe match.

The rules of a Wall of Woe match is simple, on one side of the ring is a steel cage wall with a firm platform perched up top, similar to a scaffolding. Attached to this wall is numerous weapons for Flint and Tyler to maim each other with. The way to victory is to climb up the wall and onto the platform and then grab the belt that is within reach. A match that saw Berlin Anderson and Shane Sparx nearly kill themselves will happen for the second time, except this time around, Tyler Storm and Scarlet Flint will aim to kill each other. This is not one to miss!


Main Event
- Standard Singles Match -
(World Visionary Championship on the line!)
Valquist (c) Vs. Casanova English

This is the big one. A match that could go down as one of the best World Visionary Title matches in our companies short history. Ever since Valquist's return to VoW, he's had his eyes firmly set on the World Visionary Championship and Casanova English, those two polarising figures are what caught Val's eyes from the get go. He had fought his way into the Six Visions of Pain match where he laid a bombshell on the world by winning the championship before dissapearing in the middle of the ring, to be replaced literally by Valquist's crutch and closest friend, Isis Derrida. This would leave many confused and it immediately sparked English's drive and motivation, much like he had done with Starrkadian, Vanessa and Ziu Zhong before...he had begun mind games in trying to prove a theory. They would trade war of words before at Breakthrough #32, English had attacked Valquist who was on the verge of defeating one of The Orphanage members, Matt Robinson. English would leave the champion a bloody mess. He would make the challenge to face both Valquist and Derrida, Full Measures in a handicap match for the title much to the surprise of everyone. Into #33, the contract signing would be announced and both men spoke their piece, English earlier in the show and Valquist...well, Valquist made a claim that English basically hadn't proven his worth to face both of Full Measures and that there would be no match before walking out. English would lose it and assault Darius Yates, calling for Valquist to return...only to get Isis himself. The two men along with Corpse (English's bodyguard) would brawl, English would finally announce his theory. All of this was an attempt to get Isis and Isis only because...The audience wouldnt know because English would be knocked with an Enlightment knee, Isis would snap one for Corpse too before standing over his challenger with the richest prize in VoW and announced English's theory true.

Full Measures were one in the same.

Will Casanova topple the odds of the monsterous Isis or the calculating Valquist? Or will Full Measures be simply too much for The Modern Day Messiah?

We'll soon find out. No matter, there will be no other show in 2015 this armed and this dangerous.

Card Subject to Change