Post by Valerie Beasley on Oct 9, 2016 22:08:40 GMT -6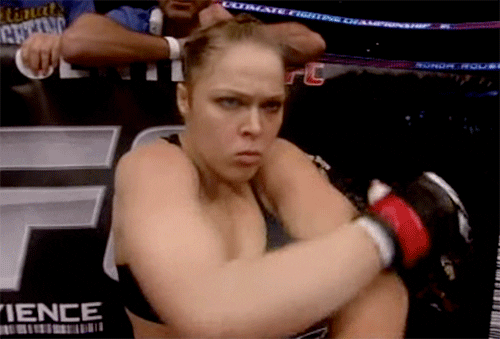 A dimly lit room comes into a view as the sound of an oscelating fan can be heard. Heavy punches landing on a hard surface echoes throughout the room as a silhouette of a woman standing five feet eight inches tall can be seen in the corner.

"Focus. That is what I will need to have heading into the biggest match of my career thus far. Everyone likes to question my heart for this business even though I have given my entire life to this sport. No one has a bigger heart for professional wrestling like I do and I will do everything within my power to see that my goal comes true."

A voice rings out as more lights begin to flood the small room. The camera compensates for the lights as a nearly empty room comes more into view. The silhouette begins to diminish as the woman steps out from behind the large bag hanging from the ceiling.

"Fate of the Gods was the last time anyone saw me on Pay Per View. On that night I did the impossible. I eliminated the undefeated PAAK and sent her scurrying back to Korea. The loss she suffered at my hands was so great she couldn't face it. She couldn't handle the fact that I did what I said I would do. Which tends to be a pattern when you think about it. When I took on the notorious Rebecca Saint, I told everyone that I would make her tap and what happened. She tapped. The same result came when I said I would knock PAAK into next week and that happened. When I set my sights on a particular goal nothing will deterr me from completing the task at hand."

The camera pulls out a bit as the focus is racked too show Valerie Beasley wearing her workout gear. Her hands are covered in fighter's tape while her hair is pulled back into a tight ponytail. Sweat is pouring down her face as she takes a few steps toward the wooden table placed against the far wall.

"I am well aware that my knee has a target on it and I am quite sure Ace Watson will look to exploit it. Why wouldn't he? That's what a good fighter does right. They go after the weakness but that can go both ways. Everyone is aware of your submission expertise Ace but you seem to underestimate my submission ability. Just like you underestimated me at Breakthrough 52. You thought it was going to be breeze but in the end you found a different scenario staring you in the face. Now I know you and I haven't had a real encounter before the tag match so let me clue you in on who I am Ace."

Valerie takes a minute to catch her breath while picking up a bottle of Aquafina water and twists the cap off. She places the bottle up to her lips and takes a nice gulp from it.

"If you read my history then you would notice the different martial arts that I am skillfully trained in and the discipline I have from knowing each one. That's the one thing you lack with your knowledge Ace. You strike with aggression but you lack precision. It's not about going after a limb. It's about knowing how to adapt to your surroundings and fighting under dire circumstances. Take me for example, since my knee is my weakest part of my body. I must compensate with the other parts of my body but make no mistake Ace. I will not favor my bad leg. Because each day it gets stronger. I bet you can't say the same thing about your left shoulder. I watch you in the ring Ace. You tend to favor that body part more and more which hinders most of your power moves which you like to utilize quite often. That's the problem with power based wrestlers. They don't have the discipline to fight. They go in half cocked. Yes, it has paid off for you in the past Ace but I can be damn sure it won't pay off against me."

Another gush of water flows down Valerie's throat as the coolness from the liquid quenches the thirst she was feeling. She places the bottle back down and takes a few steps back toward the punching bag.

"If you don't believe me Ace then go watch the matches I have won again. Notice what I did to prove that I am capable of anything that I set my mind to. I bet you are going to find some excuse for why you lost at Breakthrough 52. You will probably blame it on Jessica Mathis but we all know the blame will be shared. You just can't take the fact that I am smarter, faster and driven more than I have ever been in my entire career. You said my return was mild but yet I managed to rack up victories. Everyone has expressed how grateful they are to see me back inside the ring. Hell, I have gained quite a few fans since returning and that bothers you Ace. Doesn't it? It bothers you that I was shown more love upon my return then when you first returned. I bet it's eating you up inside to know that someone who has yet to hold a championship in this company was given more fanfare. I promise you Ace this 'mild' return will be remembered for years to come. Do you want to know why Ace?"

Another brief pause happens as Valerie stands next to the bag.

"The reason it will be remembered Ace is because I will do what so few have managed to do. I will the unthinkable. I will once again to do the impossible. I will enter that ring and fight with every ounce of my sweat, my tears and my blood. I am willing to sacrifice my own well being to secure my first wrestling championship in my career. I will not go down easily Ace. I will fight til there is nothing left inside of me. You will have to literally break me in order to stop me but we both know you lack the precision to do that. So I will walk in DC with my eyes trained on the prize. My drive will be put into overdrive and I will not rest until I have rescued the Zero Gravity Championship from your clutches. Say what you want about me Ace. Try to convince the imaginary world you tend to live to sing your praises. Because while you are trying to convince yourself that you will retain a championship, I am going to be the one who leaves our nation's Capitol with the gold around my waist."

Valerie strikes the bag a few more times before stopping for a brief second.

"In a few days Ace you are going to realize that this show we are about to partake has two words that describe me to the letter. I am ARMED and DANGEROUS. Soon it will be time for me to do the unthinkable. It will be time for me to Break a Bastard. Now you have to two options you can either TAP or SNAP. It is your call so make the best one. Until then enjoy your final days has champion because they will be your last."

Valerie goes to turn but takes one look over her shoulder.

"Beware The Fist"

The final warning was given as Valerie returned to her workout as the camera slowly starts to fade.