Post by Admin on Aug 8, 2014 21:49:59 GMT -6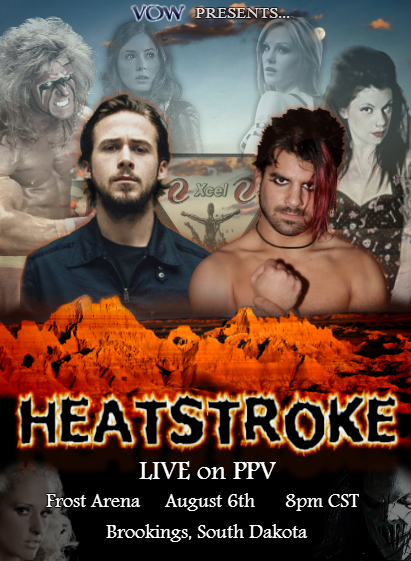 The main arena lights dim while yellow and orange spotlights flash around the gymnasium that normally seats around 6,500. More, maybe 1,500 or so more, have been packed in for tonight. "Down in the Flames" by Egypt Central breaks through the silence. Many of them are holding up signs to support those they love, bash those they hate, and poke fun at things beyond VoW just in hopes of getting on TV. After the camera spins around the inside of the arena twice, the view switches to ringside where Axel Reid and Ruby Parvati look prepared to handle their duties for the evening.
Axel Reid: Welcome to the second ever Visionaries of Wrestling Pay-Per-View event, Heatstroke! We are live from the Frost Arena in Brookings, South Dakota and thank you for joining us! The weather outside may not actually be that hot, but the competition in here will definitely make up for that.
Ruby Parvati: As long as studs like Berlin Anderson, Judas Dathan, Ziu Zhong, and Casanova English are in action, I know I'll be hot. I might even stroke out from all of the excitement! You might have to give me mouth to mouth later, Axel.
Axel Reid: Ruby, I…uh…it's a good thing we have medical personnel on standby for the competitors. I am sure one of them will help you if necessary. However, with some of the intense match-ups set for tonight, you might not be the only one needing their assistance.
Ruby Parvati: Oh I doubt any of the men I mentioned will. They are all sexy, powerful fighters. Although, I do worry that Ziu and Judas have to fight each other. Those ladders can be dangerous.
Axel Reid: They certainly can. Judas has quite the mean streak too. He might be the one using them against his opponents with disturbing precision. Zhong, on the other hand, could very well be flying off of them. The Quest for the Case could certainly be one of the best matches we have tonight.
Ruby Parvati: Not if I get to see the Sexy Spaceman, Starrkadian destroy Thunder-Thighs. Or if English can become our first champion by winning the Xcel Championship tournament final tonight against Patrick Kay Anthony.
Axel Reid: Your personal biases aside, I am certainly looking forward to both of those matches. The chance to be the first champion in VoW is definitely a prime opportunity. Claiming the prize would set either man apart.
Ruby Parvati: If Casanova wins, maybe later he can get my legs ap…
Axel Reid: Whoa! This is still family friendly programming, Ruby! Besides, we don't have time to discuss your many fantasies when we haven't even mentioned the battle of the siblings between Cera and Reya Serra. Or what about Vanessa having to take on Sky Sangue's head of security, Hazard, in a No Disqualification match?
Ruby Parvati: Along with Berlin Anderson against Maxwell Soloke, Matt Rydell versus Mr. E, Lucas McCann taking on Brett Carson, and of course we open with Hugo Strange and Death. I am not stupid, Axel. I could definitely teach you a thing or two.
Axel Reid: You are right that we have a packed night of wrestling. Although, before that, I think someone who is making his first Pay-Per-View appearance for VoW has something planned.
Ruby Parvati: Why don't you be a little more vague?
"I Won't Back Down" by Burn Halo fills the arena and cuts off the commentator's banter. After a few seconds, Patrick Jones steps onto the stage in his typical jeans and black t-shirt ensemble with Nike sneakers. At the top of the ramp, he stops to look around and soak in the energy of the fans here at Heatstroke. He walks down the ramp, talking to and high-fiving fans. At the bottom of the ramp, Jones takes a few quick steps towards the ring and jumps onto the ring apron before ducking through the second and third rope, spinning a full circle as he looks out into the crowd. He takes a moment before raising the mic to his lips.
Patrick Jones: So this is what it's like to be on a Visionaries of Wrestling PPV. For some reason, I was given the week off for the last one, so I decided to make up for that by making sure I had a presence tonight. What better way to do that than enter the Jones Zone and bring along one of the brightest new stars in VoW? Tonight, I have to climb a ladder. To this man, heights like that are nothing since he is used to traveling galaxies. That's right, this Earth Man would like to welcome "The Neon Avenger" Starrkadian to the Jones Zone!
The lights shut off abruptly, plunging the arena and its occupants into pitch black. An audible buzz breaks out among the excited crowd, as though from a swarm of bees in the darkness. Camera flashes momentarily pierce the black film like distress flares, only to be extinguished as the darkness stitches itself together again.
'That's one small step for man...'
The famous words of Neil Armstrong reverberate throughout the stands, followed by Star yelling at the top of his lungs --
'ONE GIANT LEAP FOR STARRKADIAAANNN!'
An uplifting synth chorus beams out into the void like a signal in deep space, eliciting a roar from the arena populace. Lasers shoot across the stage, crisscrossing and ricocheting to form their own rainbow constellations against the blackness. The Space Invader sprints out onto the stage, lifting his knees up to his chest with each stride. The crowd explode, lens flashes permeating the darkness once more. They hold their backlit phones above their heads and sway gently from side to side, the entire arena resembling a star-strewn night sky.
Just as the pounding synth beat kicks in -- to which the audience stamp their feet and clap their hands -- Star takes off again, hurtling towards the ring like a rocket. His journey is captured by the lighting rig, which pulsates and illuminates him with flashes of pinks, blues and greens, giving his energetic movements a stopmotion quality. He sprints around the ring several times, slapping the hands of the fans and pumping them up as he rides the crest of Dynatron's sonic wave, 'Propulsion Overdrive'.
The Neon Avenger sprints up the stairs and along the apron. He stops halfway and shakes the top rope violently, the turnbuckles on either side of him bobbing up and down. He then climbs through the ropes as the crunching guitar kicks in, posing to the fans and yelling inaudibly as they drown him out with cheering. Starrkadian then turns his attention to Patrick, who has retrieved a microphone and hands it off to his guest.
Starrkadian: Well met, Pat-Rick.
Starr performs his crossed forearm salute. PJ hesitates a bit before smiling copying the motion.
Patrick Jones: I'm glad you were able to make time to talk to a mere mortal. However, I'm a bit surprised not to see your companion Laura out here with you.
Starrkadian: Yes... in light of recent events, we thought it best she remain home and stay safe.
Patrick Jones: Ah, I understand completely. I have seen what happens when those close to you are targeted. She seems very strong-willed though. How much convincing did it take for her to stay home and not even come to South Dakota with you?
Starrkadian: Well... truth be told, I may have embarked upon the journey without her. I assume she has noticed by now. Earth Lady, if you are watching this, I apologize. Did it for your safety and well-being, I did.
The comment about Laura possibly noticing that the large man was no longer in her apartment draws laughter from the crowd and a chuckle from Jones.
Patrick Jones: I would imagine that she has definitely noticed. You aren't exactly someone who is easy to miss in the arena, much less if you're missing from an apartment. And what if 'Earth Lady' were to show up at the Frost Arena tonight on her own?
The name-drop of Heatstroke's location earns some cheers which calm quickly due to Starrkadian's reaction to the possibility. Star looks away and chews his tongue, a look of concern crossing his brightly-painted face. The idea that she could show up on her own and unprotected clearly worries him.
Starrkadian: Unwise, given the current climate. Better off at home you are, Earth Lady. Only those in the office know her location. Scouted, my residence is.
The obvious concern causes Jones to nod sympathetically.
Patrick Jones: Good. I'm sure she'll be safe. Casanova cannot be in two places at once. And since no one likes him, I see no risk for her. However, I DO see a big risk for your buddy, Mr. English. He has only narrowly escaped you a few times so far. How much longer until you can get your hands on him?
The veins in Star's neck bulge as he clenches his hands into meaty fists, the whites of his eyes clearly visible.
Starrkadian: Only as long as his legs can carry him. Casanova, you can run, but you can't hide. I've been to the furthest reaches of space and back, you think you can hide from ME? There are no lengths I won't go to. No places I won't go to. Make no mistake; this planet may be your home, but while I have the HEAT SEEKERS trained on you, it is your PRISON.
At the mention of his "heat seekers," he flexes his biceps, which damn near snap the thin armbands to which his arm tassels are attached. The very intimidating display of rage and power causes PJ to take a step back.
Patrick Jones: Ok, big guy, trust me, I know you can rip my head off, and I do have a big match coming up...but I do have to ask, what happened to the red facepaint? You still seem to be looking for revenge...so why drop the paint?
Star tosses his head back to shake his blow dried hair out of his face, bringing more visibility to his Heatstroke-themed yellow and orange facepaint.
Starrkadian: Anger still courses through these veins, Pat-Rick.
As if on cue to emphasize the statement, his blood vessels pulsate as he speaks.
Starrkadian: But, as Earth Lady explained to me... revenge and justice are two VERY different concepts. When wearing that crimson paint... I thirsted for vengeance. It brought out a darkness in me. In shedding the crimson...
Star pauses, looking around the arena at the crowd who cheer in support of their warrior hero. He reverts his intense gaze back to Jones before finishing the statement.
Starrkadian: I rise above that darkness. Now, I desire justice.
Jones looks visibly relieved to see the much larger man calmed down
Patrick Jones: It is good to see you are learning from us 'Earth People'. I'm sure moving in with your 'Earth Lady' has also allowed her to teach you a few more things.
PJ is back in his naturally goofy state, smirking at the innuendo. Star's brow visibly creases under his fiery facepaint.
Starrkadian: I... do not understand.
The naivety of the supposed visitor from space draws more laughter from the fans. Patrick manages to control himself and keep a straight face.
Patrick Jones: Well, Starr, on Earth, when a man and woman live together, they often teach each other certain things. Some of these things would almost qualify as wrestling moves. Any of that going on?
Star strokes his chin.
Starrkadian: Hmmm... an EXCELLENT suggestion, Pat-Rick.
To show his very hearty approval, Star slaps Patrick on the back, knocking him forwards.
Starrkadian: I should INDEED impart my wisdom of hand-to-hand combat to Earth Lady. She must be able to defend herself against any possible future interactions with Casanova -- or anybody, for that matter.
Grimacing from the stiff smack on his back, PJ cannot keep from shaking his head with a wry smile at how Star missed the joke.
Patrick Jones: Ugh...glad I could help. Although, on Earth it is considered bad manners to nearly knock your host on his face. Upstaging is rather frowned upon.
To jokingly show his control of the situation, Patrick theatrically pulls himself up to try and appear bigger and bulkier and succeeding only in standing over Starr height-wise, even as the shorter man's bulk very clearly outdoes Jones's without trying. Oblivious to Patrick's attempts to square up to him, the Neon Avenger simply looks at the talkshow host, before offering him a thumbs-up in the silence which had been punctuated by sparse laughter. Star's reaction causes even more. With another wry smile, Jones drops the act*
Patrick Jones: So, something I personally am curious about, how is life on Earth treating you? What do you think of us 'Earth people'?
Star stands with his hands on his hips and casts a look out into the audience, who all pop for their neon-clad hero. A genuine, warm smile spreads across his face.
Starrkadian: I am very much enjoying my stay here, Host Man. Though I have come to realize humanity has its darkness -- as does every race -- there is even greater light and goodness among your people. I have been treated very well.
Looking around at the crowd as they cheer for their hero from the stars, Jones nods.
Patrick Jones: Well, they seem to love you. Personally, I'm glad to see someone who stands up for justice. I just have two more questions. First off, what is more difficult: intergalactic conquest or competing in VoW? Finally, can I go for a ride in your spaceship?
Star laughs heartily, his singlet barely containing his huge chest. He then stops laughing abruptly and suddenly appears concerned.
Starrkadian: I have no idea where I docked that thing...
The perfectly serious answer quiets Jones and the crowd. Shrugging, he continues.
Starrkadian: As to the level of competition here on Earth, well, I admit to having underestimated the athletes here. Perhaps it is merely a result of occupying this puny host body.
He flexes again, his body a mass of sculpted muscle and blood vessels.
Starrkadian: But I have faced stiff competition every single week. I'm not sure I would pit a human against a Grendakk'n Razorclaw, but you certainly punch above your weight on the galactic food chain. As for conquest... I believe you Earthlings have a saying; make love, not war. Whilst I am not entirely sure I understand its meaning, it sounds like a good message.
Patrick Jones: A Grendakk'n Razorclaw?
Jones looks around as if hoping someone else knows what that is or what craziness Starr might be referencing. Of course, no one responds.
Patrick Jones: Sounds...uh...terrifying.
The Space Invader nods eagerly.
Starrkadian: Absolutely. Dimension-hopping beings with razor-sharp claws bigger than their limbs. They melt into the shadows.
Patrick Jones: Fantastic. I didn't want to sleep tonight anyway.
The sarcastically nervous response earns a few chuckles from the crowd.
Patrick Jones: Well, let's hope neither of us run into one of those anytime soon. You seem to have found enough love and war between Laura and English to keep you busy for the near future. Meanwhile, I'll be climbing into the rafters. Hopefully, I won't be finding a pink slip in the briefcase when I open it.
Jones extends his hand to Starrkadian. Star looks down at Patrick's hand, uncertain as to what to do. Thinking back to the fans holding their hands out every time he makes his entrance, he slaps it like a high five.
Starrkadian: Thank you, Pat-Rick. This has been highly enjoyable and INFORMATIVE.
He yells the last word right into Patrick's face.
Starrkadian: Good luck in your match, Host Man. ASCEND THE LADDER.
After yelling the commandment of luck, He bids Jones farewell with his customary crossed forearms. Jones looks down at his hand, grimacing again as he clenches and unclenches the clearly aching hand as he mutters into the mic.
Patrick Jones: Yeah...thanks.
With that, Jones follows Starrkadian from the ring, still gingerly clenching and unclenching his hand. "I Won't Back Down" begins to play again.