Post by Admin on Sept 18, 2014 21:43:49 GMT -6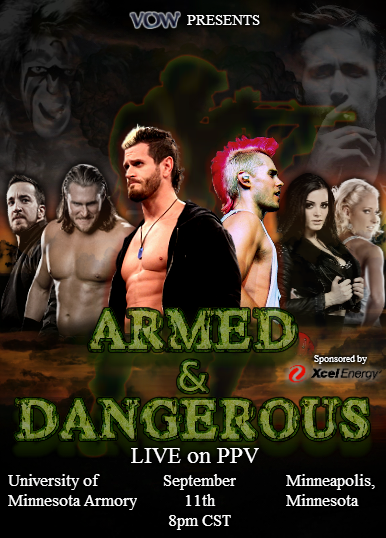 Public Enemy and Anthrax's "Bring tha Noize" blasts around the capacity packed University of Minnesota Armory. The camera catches shots of the audience going crazy, waving their arms and event made signs to be shown on tv. As the song quiets down the camera's pan up to the stage and show the near complete roster standing at the top solemnly. In the center of the stage Stefan Frei in a crisp suit stands with his hands crosses over his waist. He is flanked by a sharp dressed Ryan Omega posed similarly with his wife Rayne at his side. Behind them are Stacy Jones with Tayla Williams with their heads lowered, Reya Serra along with Paxar Vega, Vanessa, Berlin Anderson, Lucas McCann, and Seifer Black all stand proud. Shane Sparx smiling with the faintest hint of a tear in his eye. Starrkadian wearing an airbrushed old glory singlet with Laura at his side. Flanking Stefan's other side is Sky Sangue and behind her is Brett Carson smirking with two flags crossed behind him... Those of Canada and Quebec. Scott Knight and the Mistress next to him void of emotion. Edward Myers, a veteran of more recent wars with his hand already over his heart, and uncle Theodore followed suit with a devilish smirk on his face. Cera and Jen next to them. Cera cold of emotion as Jen can't help but to fidget.
Stefan Frei is handed a microphone and he raises it to his lips.
Stefan Frei: Ladies and Gentleman, thirteen years ago today was a day that was immortalized in infamy. Thirteen years ago, a foreign threat tried to kill our spirit. They tried to kill our faith. However, they failed and they will never succeed. When I stand up here on this stage and I see the boys and girls behind me who continue to fight and put on a show. When I look out to all of you in the crowd who have been generous enough to donate your time, invest in us so we can entertain you. We are doing them a disservice. We are showing them that after getting suckerpunched, we still get up off the ground, we pick ourselves back up, we dust ourselves off and we move on. We carry on with our lives. And their threats are nothing. Nothing to us. They are merely an afterthought. It is this insignificance that kills their ideals. Now unfortunately due to a scheduling conflict... Our special guests aren't in the Armory this evening, but joining us live from the TCF Bank Stadium just down the road here on the University of Minnesota campus. I'd like to introduce the University of Minnesota Marching Band Heralding Trumpets to perform the Star Spangled Banner.
Stefan puts his hand over his heart as the majority of those on the stage follow suit.




The image of the Heralding Trumpets at the TCF Bank Stadium plays on the JumboVision as the crowd goes silent and they stand, placing their hands to their hearts. The serious tone in a pseudo show of unity by the entire roster who may have personal conflicts with each other still standing together to show VoW's dedication. The brass section starts to perform a regal rendition of the national anthem and the camera pans to show the faces of the crowd and of the roster reflecting on the tragedy that unfolded thirteen years prior. The faces show hope, determination, unclosed sense of loss, closure. No two faces are alike as this moment means different things to these individuals who have experienced it differently from each other. As the anthem comes to a close, the audience erupts into a chorus of cheers as Frei raises his mic again.

Stefan Frei: Never forgotten... Always remembered. We will continue to forge ahead. For tonight, we are Armed and Dangerous.

Stefan nods to the crowd as he ushers Ryan Omega, Sky Sangue, and the roster back behind the curtain. "Bring Tha Noize" starts playing again.

Axel Reid: Ladies and Gentleman thank you for tuning in tonight to VoW's Armed and Dangerous live in the University of Minnesota Armory here in Minneapolis. As always I am joined by the lovely, Ruby Parvati. Ruby, we just witnessed a fitting tribute for a day that will forever live in infamy. But to switch gears tonight we will see what are sure to be classic encounters.

Ruby Parvati: Yes, later tonight we will see a new Xcel Champion crowned as Vanessa, Stacy Jones, Scott Knight, and Brett Carson will do battle for a title being recognized as held by the injured PKA.

Axel Reid: This match came about at the announcement from Ryan Omega who was disgusted with Brett Carson's actions. It was weeks ago that Brett Carson jumped PKA in his match against Scott Knight and after Breakthrough went off the air, Carson mowed PKA down with his car in a disgusting act.

Ruby Parvati: Carson said it best. Wrestling is dogeatdog.

Axel Reid: He was fortunate enough that PKA declined pressing charges. That could have ruined his career.

Ruby Parvati: But what would PKA be remembered for? Hiding behind attorneys? He made a wise choice...

Axel Reid: Also tonight Reya Serra will battle her twin sister, Cera... In this match Cera is comepting under standard rules, but Reya must make Cera bleed before she can attempt a win. If she fails to draw blood and wins.... Sky Sangue will suspend her from competition and like wise Ms. Sangue will suspend Cera if she ends up disqualifying herself or using any weapons.

Ruby Parvati: Sisters quarrel. It's nature at it's finest. I just don't agree with it being put at the forefront of VoW's doorstep. We have more pressing matters than the Janason Sisters hazing each other. But in one of the more interesting moment of the night... In a war that's waged for months... Stefan Frei authorized a steel cage match to decide who will be the victor as Starrkadian goes to battle with the Anti-Christ of VoW, Casanova English.

Axel Reid: For months, English antagonized and harassed The Neon Avenger and his handler Laura. Stalking the rockabilliy sweetheart and abducting her. Finally Starrkadian will get his hands on Casanova English in the steel cage. Also tonight we will have the debut of Seifer Black as he will go head to head with Edward Myers. Edward Myers joined VoW under the guise of Mr. E... Working closely with Ryan Omega... Gaining our DWO's trust. Only to turn his back on him when Omega stopped him from demolishing Matt Rydell at Heatsroke. He then revealed to be RDO's ex-husband's little brother. He started a reign of terror demolishing Starrkadian twice at the enjoyment of Casanova English... Savagely beating Vanessa as he was a sore loser. And sidelining RDO... This all prompted Ryan Omega to accept a challenge to face Myers tonight. However a trick up his sleeve... The ace card... Seifer Black popped up and signed the contract after catching Myers off guard.

Ruby Parvati: Myers is so chiseled, so handsome. Seifer Black hides behind make-up. A coward. Although tonight... Stefan Frei announced the main event of the evening was to be for the Zero Gravity Championship. Berlin Anderson will go one on one with Shane Sparx in a Wall of Woe match. Tonight we are in for a treat.

Axel Reid: Yes we are and let's take it to Jerry Heisenberg who will kick us off for Shay McClure vs Daniel Kennedy.