Post by Admin on Dec 2, 2014 23:41:11 GMT -6
The pre-show kicks off with Nelson and Frost standing in the ring as a piano rendition of "Moonlight Sonata" plays around the arena with a rhythmic drum beat behind it. The Gang Stars emerge from the curtain and Shay McClure has a mic up to his mouth as he freestyles about his opponents on the way to the ring. Jermaine Brown bows to the crowd before Shay tosses off the mic and he begins to recite ye old English poetry at the expense of their opponents.
The ref checks all four men and the match is underway with Shay taking on Jaxon Frost. Shay starts break dancing in the middle of the ring catching the confusion of Jaxon. Frost checks out the situation before coming in with a stiff kick to Shay's gut... He turns around to look at Marcus Nelson and laughs as he points to Shay behind him. Shay, undetected by Frost, hits a bulldog from behind.
Shay performs a running man back to his corner where he tags in the resident gentleman of VoW, Jermaine Brown. Jermaine wipes off his boots before entering the ring and hold his hand out for a hand shake... Frost accepts but uses it to whip Brown into his corner but Jermaine sees Nelson pulling back for a punch... So he knocks Marcus off the apron with a european uppercut. He turns around to see Frost coming at him like a freight train and he avalanches him in the corner. Frost then whips him back to his own corner where Shay tags Jermaine's back. Frost comes in for another avalanche but Jermaine moves out of the corner last second and Jaxon hits the turnbuckles... He turns around and is put in a gutwrench by Jermaine who circles his back to his partner Shay on the apron... He lifts Frost for a gutwrench suplex and it places him on the shoulders of Shay who powerbombs him in the ring. McClure hops over the top rope and makes the cover as Jermaine heads out on the apron and grasps the tag rope
1...
2...
3...
DING DING DING
Jerry Heisenberg: Here are your winners... SHAY McCLURE... JERMAINE BROWN... THE GANG STARS!!!
Shay starts beatboxing as he breakdances in the ring and Jermaine Brown climbs in and shakes his hand. as the preshow cuts to a hype vignette on the JumboVision. And a midwestern accent narrating the shadows inside a dimly lit ring.
"I spent five years in this industry. I made a few friends... I made countless enemies. I've built bonds just to break them.. Anything that could advance myself as the premier wrestler on this planet. I won three world titles and now my eyes set upon VoW... There's some familiar faces... To them... I only have this to say... Your asses will be smoked.... Courtesy... of...."
What appears to be cigarette smoke flows in the background as a marijuana leaf reading '12-15-14' appears on the screen.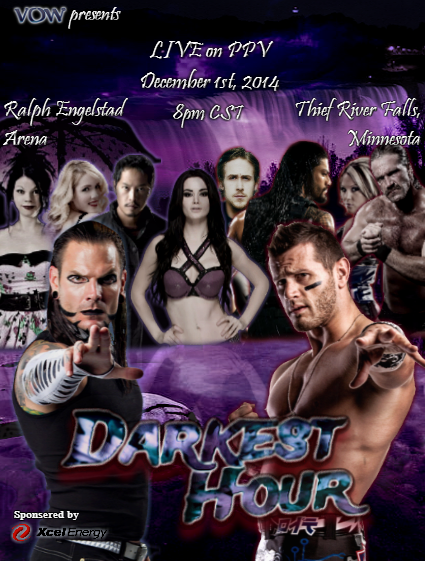 The Young Ruffian remix of Lana Del Rey's "Once Upon a Dream" plays around the Ralph Engelstad Arena as the capacity crowd is pumped for action after the pre-show tag match... The camera focuses on the broadcast table with close up on Axel Reid and Ruby Parvati who look ready to start commentary for the event.
Opening Contest
Brett Carson vs. Ian Windermear
Axel Reid: Here we go ladies and gentlemen; the opening contest of our fourth PPV, right here in Thief River Falls, Minnesota.
Ruby Parvati: It's going to be an interesting match, that's for sure.
Axel Reid: That's true, Ruby. The experience of Windermear against the young, creative mind of Carson.
Ruby Parvati: In terms of VoW, though, you have Carson with the experience and Ian being the inexperienced one. Which one will prevail?
Axel Reid: Very true.
Ruby Parvati: Stop agreeing with me and do your job.
Axel Reid: Haha, very funny. You're right, though, Windermear has 11 years on Carson and is very experienced in the game. A veteran so to speak. Whereas Carson has been in VoW since the beginning and has the company experience here. It's going to be a great match.
Ruby Parvati: Indeed
Axel Reid: Hey, stop agreeing with me Ruby.
Ruby Parvati: No, Axel…it just doesn't work when you do it.
"Five Finger Death Punch" by Battle Born begins to play and Ian walks out and raises his hands high in the air. Back to the ring, Jerry Heisenberg raises the microphone to his mouth.
Jerry Heisenberg: The following contest is a singles match, scheduled for one fall! Introducing first, standing at 6 foot 1, weighing in at 224 pounds… he hails from Greenwich, Connecticut… the Lone Wolf… IAN WINDERMEAR!!!!
Ian Windermear enters the fantastic atmosphere with a burst of energy. The Lone Wolf heads down the ramp, slapping the hands of the fans as he walks down before sliding into the ring. He hits all of the turnbuckles and then stands in the middle of the ring and awaits his opponent for his first ever VoW PPV match.
Axel Reid: Another great reception for Ian here tonight. He appears to have made an impression on the fans already. He looks up for this match too.
Ruby Parvati: I should hope so too. If he can pull off the win tonight people will certainly stand up and take notice.
The oriental style opening of "The Baddest Man Alive" by The Black Keys now plays throughout the arena. The fans respond with a low, deep negative vibe. The booing goes straight through you as it grows in strength. The guitar riffs and drum beats kick in and from behind the curtain comes "The Next Level Athlete" Brett Carson, a swagger clearly showing in the way that he walks out. The hood on his hooded zip up sweater barely covering his eyes.
Jerry Heisenberg: And his opponent, standing at 6 foot, weighing in at 230 pounds of solid, well shaped build. Like you've never seen…
Jerry suddenly snaps out of his own world and realises what he has just done live on a VoW PPV. He looks around the arena at the fans who are also shocked but humoured by what has just happened.
Ruby Parvati: Oh no, he did not just do that…
Axel Reid: What was Jerry thinking of!
Ruby Parvati: It looks like someone's got a little crush on our Next Level Athlete. I don't blame him.
Axel Reid: It sounds like he has been up all night looking into Brett's bio on the website. Well shaped build? Like you've never seen? How embarrassing for Jerry!
Jerry shakes his head and laughs it off, continuing with the introduction of Windermear's opponent. Ian himself is saying something across the ring to Jerry, clearing mocking him.
Jerry Heisenberg: He is The Next Level Athlete… hailing from Minneapolis, Minnesota by way of Montreal, Quebec, Canada… BRETT CARSON!!!!
The Black Keys continues to play its tune…
"I can take the pitchfork from the devil...Keep a super suit like I'm incredible...From the deep blue sea, to the darkest sky...I'm the baddest man alive..."
The hood comes off and the emotionless look on Brett's face tells it all as he momentarily scans the crowd, the emotionless face turns to one of disgust. He briefly looks up at Jerry Heisenberg; is Jerry a fan?
"I'll grab a crocodile by its tail...Handcuff the judge and put the cops in jail...Make the meanest woman break down and cry..."
Brett smirks as he mouths, "I'm the baddest man alive" to the camera before cockily walking down, ignoring the trash talk he's getting from a few of the fans. His focus is inside the ring as he is clearly ready for the battle ahead of him.
Axel Reid: Brett Carson looks as focused as he always is.
Ruby Parvati: Mmmmm me too.
Axel Reid: Perv.
Ruby Parvati: Look at those pecks. I have never been the submissive type in the bedroom but with Brett I think I could be persuaded.
Axel Reid: Nice. We all needed to know that.
Ruby Parvati: And that's why I told you.
Brett hops on the apron and looks out to the crowd once again before entering the ring. He hops on the second rope and looks out at the crowd, finally acknowledging some of the folks in the front row before hopping off. He takes off his hooded jacket and rudely dumps it outside the ring for the staff to pick it up. He rolls his wrists around and hops on the spot, waiting for the inevitable opening bell as his music fades out.
Axel Reid: Look at the staring competition going on between these two guys. Both will want to open this special night with a win and the hairs on my back and neck are going straight up!
Ruby Parvati: Are you sure it's the hairs going up and not something else? We know you like two guys wrestling semi naked.
Axel Reid: Haha, very funny, Ruby.
Ruby Parvati: I'm being deadly serious.
DING! DING! DING!
Brett Carson is in his usual tight black shorts that end half way up his thigh with white lettering spelling 'Next Level'. Ian Windermear is wearing dark red trunks with black lettering spelling 'Lone Wolf'.
Axel Reid: Here we go!
The glare between the two wrestlers standing in the ring ends. Brett suddenly starts to strut around the ring as if he owns the place but he is caught off guard as Ian runs straight into him, landing a forearm smash to the side of the head. They both stumble to the ropes and begin to grapple, moving along the ropes to the corner of the ring.
Axel Reid: When will Brett learn not to take his eye of the ball?
Ruby Parvati: I can't see any balls Axel? Certainly none over here where we're sitting anyway.
Axel Reid: You're on one tonight, Ruby! I mean Brett needs to be focused at all times; it's one of his weaknesses.
Ruby Parvati: Everyone has them...except me of course.
Brett gets the upper hand in the corner of the ring with some fists to the face. Brett elbows Ian in the face and pauses to smile to the fans in the first few rows who are giving him some stick.
Axel Reid: Brett's managed to beat Ian down in the corner but the fans do not like it one bit.
Ruby Parvati: And Brett is loving it!
Axel Reid: Ouch! A knife edge chop from Brett on to the chest of the Lone Wolf. And another one!
Brett ignores the further boos from the bunch of VoW fans close to the action and continues the knife edge chops to Ian's chest. He casually walks off to the opposite turnbuckle and then takes a run up before charging at Windermear. As Brett gets closer, Windermear jumps out the way and capitalises by delivering a dropkick once Brett turns around. Brett falls back into the corner of the ring and on to his ass which gets a few cheers from the fans.
Axel Reid: Ian's dragging Brett to his feet. He's going for the DDT...ouch! Brett rolled a few times after that impact with the mat.
Ruby Parvati: You know what you're getting with Ian. He has pretty basic moves whereas Brett is a little more adventurous.
Brett is back on his feet and Windermear backs off and they begin circling the ring before a tie up. Windermear gets Carson in a headlock but Carson shows his strength and sends Windermear backwards bouncing of the ropes. Windermear runs to the opposite set of ropes and on his way back he ducks a discuss clothesline from Carson. Windermear bounces off the ropes yet again and on his way back he delivers a running bulldog to a dizzy Carson.
Axel Reid: Carson hasn't really got into his usual flow just yet and Ian is taking the upper hand and looking quite comfortable.
Ruby Parvati: Easy, Axel. The match has only just started.
Ian doesn't let up and picks Brett up and sends him against the rope. On his return, out of nowhere, Brett delivers the roaring elbow and Ian goes down like a ton of bricks.
Ruby Parvati: BAM! That's what I'm talking about.
Axel Reid: Carson always has something in the bag. What a strike!
Both wrestlers are down with Brett just catching his breath before getting to his feet first.
Axel Reid: Both of the wrestlers are on form coming into this match. We have Ian with two wins form two matches and Brett is on a roll with four wins from five matches, his only loss coming at the hands of Ziu Zhong.
Ruby Parvati: Yes I noticed that Brett Carson has beaten Stacy Jones twice in those matches along with a victory over Vanessa. I can see he likes beating women.
Axel Reid: He has beaten whatever has been put in front of him. Defeating Stacy Jones twice surely proves that he deserves that Xcel title shot. He has defeated the champ twice.
Ruby Parvati: It doesn't work like that but I'm sure management have taken notice. They would be stupid not to.
Axel Reid: Well if Ian can cause an upset here then that will throw everything up in the air.
Ruby Parvati: Can we throw you in the air, Axel? See which side you land on.
Axel Reid: Haha!
Ruby Parvati: ...no one is laughing but you, Axel.
Brett had been mocking the fans but is now on the top rope as Ian stumbles to his feet. He is met with a diving knee drop by Carson. He doesn't waste any more time and picks Windermear straight up and delivers a perfect backstabber causing Ian to wince in pain.
Axel Reid: Carson certainly has the upper hand now.
Ruby Parvati: Brett is his hardest opponent to date here in VoW so he will have work hard if he is to win this.
Axel Reid: Windermear is a confident guy. He doesn't rub it in your face like Carson does but certainly going by his twitter page he certainly feels confident going into his matches.
Carson looks to do more damage on Windermear but the Lone Wolf strikes him in the face with a right hook. He fights back with more hits to the face before grabbing Carson and lands a belly to belly suplex.
Axel Reid: The fans are in voice again!
Ruby Parvati: We haven't heard them in good voice much which show Carson's role in this match.
Axel Reid: Windermear going for a fisherman's suplex... no! Carson manages to escape with a knee to the face. He is reversing it in to a suplex.
Ruby Parvati: Very good from Carson. A vertical suplex and we are back to Carson on top of this match.
Axel Reid: It could go either way.
Carson lifts the Lone Wolf to his feet and delivers a second vertical suplex in a row.
Axel Reid: BAM! I felt that from over here. Two vertical suplex's from the Next Level Athlete.
Ruby Parvati: It looks to me that he's going for another.
Axel Reid: He is! Carson now has Windermear upside down in the air and is holding the vertical suplex this time around. Once delivered this will be his third in a row!
Ruby Parvati: People can count, Axel. But look at that strength from Brett. I wonder if he could hold me up like that...mmm.
Brett Carson holds Windermear in the air for a good 30 seconds before crashing to the mat. He stands up and laughs at the fans who can do nothing about it. They scream for Ian to get up and he does just that, but not without the help from Carson who is pulling him to his feet and setting him up for a fourth vertical suplex.
Axel Reid: This is just ludicrous! What is he playing at?!
Ruby Parvati: Smart if you ask me, and you would certainly ask for my opinion.
Axel Reid: Of course Queen Ruby.
Ruby Parvati: It's good that you know your role.
Axel Reid: Look – Windermear is holding his back too.
Ruby Parvati: Carson knows what he is doing.
Carson delivers a fourth vertical supplex in a row and the fans are booing him hard as a Windermear holds his back on the canvas.
Ruby Parvati: Four vertical suplexs in a row, one held for 30 seconds.
Axel Reid: All Carson can do is laugh, look at him.
Brett Carson reaches his arms out wide in the sky and then begins to do huge claps, playfully asking the fans to clap along which 95% of them obviously choose not to. There are some fans further back who do clap but they are silenced by the boos ringing out through the arena.
Axel Reid: Carson is having the time of his life out there. It was an even match leading up to the row of vertical suplexs which appear to have injured Windermear's back. It's not looking good for the Lone Wolf right now.
Brett Carson stops clapping and lifts Windermear to his feet. He set him up for a FIFTH continuous vertical suplex.
Ruby Parvati: Ian needs to get through the back pain right now and find something to get out of this because it's not looking good for him.
Brett Carson lifts Ian into the air and holds him there again. After 25 seconds Carson loses his footing slightly and as he finishes off the move he moves direction at the last second and on their way down the referee doesn't make it out of the way in time and Windermear's boot strikes him in the face.
Ruby Parvati: Ooo…that was a smack and a half.
Axel Reid: Well ladies and gentleman, the referees out cold and…hold on a second…I think Ian fell awkwardly there as well. Let's take another look at that because Ian looks just as bad as the referee right now.
There is a quick reply and in slow motion you can see Ian's head and neck hit the deck at a strange angle.
Ruby Parcati: Ooo…there's something definitely not right there.
Axel Reid: He doesn't look good. Carson, however, is back on his feet and taunting the crowd.
Carson looks down at the mess he has caused. All of a sudden EMT's run down to the ring with a stretcher followed by various security members. They attend to Ian Windermear as well as the injured referee as Carson looks on with his hands held out wide as if to say what's going on.
Axel Reid: Brett didn't even want to pin the guy. He was just messing with him.
Ruby Parvati: It was a warning. Its Carson's yard and no other dogs are allowed in.
Axel Reid: But FIVE long, drawn out vertical suplex's. The guys a show off.
Ruby Parvati: That's why we love him.
Axel Reid: Love is not the right word. Listen to the fans here tonight.
BOOOOOO BOOOOOO BOOOOOO BOOOOOO !!!!
Brett circles the inside of the ring, pointing and laughing at the fans who wanted to see a decent wrestling match to kick off the show. Windermear hasn't moved and is gradually placed onto the stretcher through the bottom rope. Carson does well not to get involved as you wouldn't put it past him to do such a thing, but he is more interested in showing off to the fans and giving them hell just like he is has been receiving off them throughout the match.
Axel Reid: Well ladies and gentleman, I'm sorry but it looks like this match is all over. Windermear is now on his way to the back, and eventually, a hospital.
Ruby Parvati: Let's recruit some REAL wrestlers in here instead of these guys who only last a few matches.
Axel Reid: Anyone can get injured, Ruby. It's a part of the game.
Brett Carson is loving this. He is now in the corner, climbing the turnbuckle and raising his hands in triumph. Security and EMTs are checking on the referee who is not looking good.
Axel Reid: Looks at this guy. He's an absolute joke.
Ruby Parvati: That body is no joke.
Axel Reid: Knowing his recent history of beating women I wouldn't take the risk, Ruby.
Ruby Parvati: Hmm...that was a good one for you, Axel.
BOOOOOO BOOOOOO BOOOOOO BOOOOOO !!!!
As Carson celebrates on the top ropes, backstage Ian Windermear is being stretchered through to the parking lot surrounded by various EMTs. Suddenly Ian sits up and begins raising his voice at everyone around him. They try to push him down but he responds quite angrily, pushing and shoving them which eventually causes the stretcher to grind to a halt.
Axel Reid: Windermear is not happy about being taking away from the arena tonight.
Windermear slides off on to his feet and pushes everyone away. He then takes the stretcher in his possession and charges back in the direction they came from.
Ruby Parvati: Badass!
Axel Reid: But he took a nasty head worn. What is he playing at?
Ruby Parvati: He looks fine to me.
Brett Carson finally takes notices as he looks up on the big screen and sees EMTs looking around aimlessly backstage. We follow Ian Windermear as he battles through the traffic backstage and back out on to the stage to a chorus of chants from the fans in attendance.
LONE WOLF!!!! LONE WOLF!!!! LONE WOLF!!! LONE WOLF!!!!
Axel Reid: Look at Brett Carson's face! He is not happy one bit!
Carson is livid and his pacing back and forth in the ring. The referee is still out and being attended to by security and EMTs but had been moved to the outskirts of the ring.
Axel Reid: Well I guess the match is still on?!
Ruby Parvati: I didn't hear a bell, did you?
Windermear builds up speed and just as he hits the ramp he leaps onto it and uses the stretcher like a skateboard.
Axel Reid: OH MY GOD! WHAT IN THE HELL IS GOING ON! HE ID NOT DOING WHAT I THINK HE IS DOING?!
Ruby Parvati: Like I said... badass!
Just before the stretcher smashed into the apron, the Lone Wolf leaps into the air and it's as if life switches to slow motion as Windermear flies into the ring and lands a Flying Eat My Forearm on Brett Carson.
Axel Reid: It's the Flying Eat My Forearm!! Did you just see that impact!!
The stretcher has smashed into the ring and rebounded off but no one even noticed it, their eyes have all been glued to Windermear's arm taking out Carson.
Ruby Parvati: Sweet… game on!
Windermear is immediately back on his feet and catches his breath for a second before walking over to Carson. The fans are making a lot of noise.
Axel Reid: I can't believe what we just witnessed. It looked like the match was all over. Carson was literally playing with Windermear. After nearly departing the arena in what looked like a nasty injury, Windermear returns and skateboards on a stretcher back to the ring. Crazy stuff right here!
Ruby Parvati: That was like a scene from an action movie. A moving train with someone riding on top. I'm beginning to like the Lone Wolf more and more.
Axel Reid: Both superstars here tonight have made an impact but who will win?
Ruby Parvati: The referee is back up!
Windermear shouts to the referee to get in the ring and he tries to but security and EMTs warn him of the consequences. He is having none of it and yells at them to return to the back and reiterates that he is fine to continue. The referee doesn't wait for a reply and slides under the bottom. Windermear awaits Carson to return to two feet before landing one of his signature moves.
Axel Reid: It's the LEGS OF MONEY!
Ruby Parvati: That should be Carson's move…look at his manly legs!
Ruby Parvati reaches forward and takes a gulp of her glass of water.
Axel Reid: Shh…you'll make Jerry Heisenberg jealous!
Suddenly a mist of water sprays out of Ruby's mouth.
Axel Reid: You alright there Ruby?
Ruby Parvati: Yes…but you generally just made me laugh. That's gotta be a first.
Axel Reid: Hmm, er…thanks.
Back in the ring where it really matters, Windermear covers Carson after landing the Legs of Money.
1...
2...
…KICK OUT!
Axel Reid: Ian is upset with that. The ref tells him to get on with it.
Ruby Parvati: Windermear has been around long enough to know just to get on with it.
Axel Reid: A Flying Eat My Forearm followed by the Legs of Money. What more can Windermear do?
Carson starts to get up but Ian kicks him in the head to stay done. Windermear then decides to pick Carson up and delivers an atomic drop. The crowd are liking this. The arena is buzzing.
LONE WOLF!!!! LONE WOLF!!!! LONE WOLF!!! LONE WOLF!!!!
As the Lone Wold stands over his opponent, Carson is caught staring at his thigh by the cameraman who zooms in on it. What's on his thigh? A tattoo that warns him to 'Kick Harder' – a motivational symbol that tells him to push harder when things are not going so well.
Axel Reid: Windermear will look to finish Carson off here. How things change so swiftly in wrestling.
Ian's hand rests on Brett's head, ready to do some more damage but the Next Level Athlete elbows Windermear in the stomach twice and then once he is properly on his feet he bounces of the ropes and makes a second attempt at the discuss clothesline, this time landing it with perfection.
Ruby Parvati: BAM!! And Carson is back in the game.
Axel Reid: What a connection with that discuss clothesline. Maybe it isn't all over yet?
Carson looks to have recovered well and learnt from his mistake, this time going straight in for the kill.
Ruby Parvati: Look at the fire in his eyes. He's ready to snap.
Axel Reid: In MPW Brett was an All-Star tournament winner, a Tag Team champion as well as World Heavyweight champion. He knows how to win.
Ruby Parvati: He knows how to lose too, have you seen his record?
Axel Reid: And? It just shows that he is a loyal and dedicated wrestler for VoW. Anyway, I thought you were a fan?
Ruby Parvati: I am but facts are there for a reason.
Carson has Windermear on his feet but not for long as he hits him with a swinging neckbreaker. He shows off once again now that he is on top and Windermear looks tired. Carson waits for his older opponent to get to his feet and decides the time is right.
Axel Reid: NEXT LEVEL STUFF!! It's got to be all over!!
1...
2...
3...
DING! DING! DING!
Jerry Heisenberg: The winner of this match... BRETT CARSON!!!!
Axel Reid: It's all over. Carson has got the win and now has 5 wins from 6 matches. What a run that is!
Ruby Parvati: It certainly is but you have got to give it to Windermear. The way he picked himself up backstage and came back out here and put on a show...just wow. He is gone up in my books that's for sure.
Axel Reid: Yeah, all in all it was a decent showing from both wrestlers. The fans are not happy with the outcome but overall they will have been pleased.
Brett Carson is back on his feet and starts dusting off his shoulders as if to say he is too good.
Ruby Parvati: Haha!
Axel Reid: What's funny, Ruby?
Ruby Parvati: Every time I look at Brett now I'm going to see the image of Windermear flying through the air after skating down the ramp on the stretcher and delivering the Eat My Forearm. Classic moment.
Axel Reid: It was a good moment but at the end of the day, Carson got the win and he moves on to bigger and better things. Windermear will have to pick himself up and keep doing what he is doing, and that's proving that he can handle himself here in the talent divisions of VoW.
Carson finally leaves the ring and heads up the ramp with another win as Ian Windermear gets to his knees and stares attentively at Carson through the middle ropes. The Next Level Athlete turns round at the top of the ramp and gives him a patronising smile before exiting the scene. Shortly there after, we break for our first commercial.