Post by Matthew Robinson on Jun 1, 2015 8:29:25 GMT -6
WRESTLER INFORMATION
WRESTLER NAME
Matthew John Peter Robinson
RING NAME
Matt Robinson
NICK NAME(S)
The Punisher (main)
The Most Dangerous Man In VoW
The Wrestling God
The King Of The Ring
PIC BASE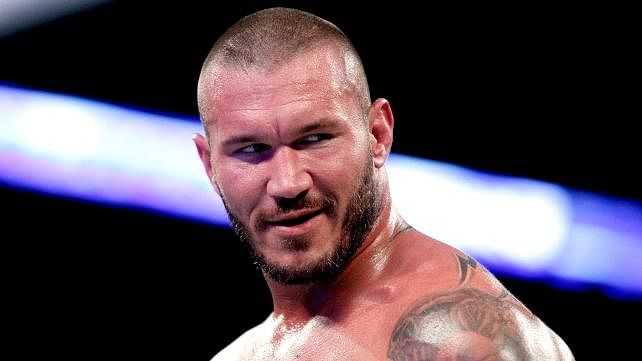 Randy Orton
HEIGHT
6'5"
WEIGHT
245lbs
D.O.B
05/04/1987
HOMETOWN
London, England
BILLED FROM
Miami, Florida
ALIGNMENT
Heel
MANAGER(S)
N/A
AFFILIATION(S)
Winter Pine (fiancé/tag team partner)
Rayne Draven-Omega (stable mate)
Seth Iser (stable mate)
Corpse (stable associate)
Bryan Combs (stable associate)
Lawrence (stable associate)
Dr. Audrey Hemsing (stable associate)
PAST AFFILIATION(S)
Stacy Jones
Jason Myers
Seifer Black
Revolution X
Chase Michaels
Cera
Stuart Fishbauch
Casanova English
Brett Carson
PERSONALITY
A quick tempered, callous, cold-blooded, cold-hearted human being who tends to strike first and ask questions later.
CURRENT ACCOLADE(S)
VoW Twin City Champion (w/Winter Pine)
ENTRANCE THEME
"Hail To The King" by Avenged Sevenfold
ENTRANCE DESCRIPTION
The opening of "Hail To The King" by Avenged Sevenfold begins to blare through the speakers as the fans boo heavily. Once the song kicks in, "The Punisher" Matthew Robinson walks out onto the stage with his trademark slow, methodical walk with his equally trademarked sick and twisted grin plastered across his face and his Twin City Championship draped over his shoulder. He begins to make his way down the ramp and when the chorus kicks in, he outstretches his arms holding his title, looking out to the crowd, nodding whilst yelling 'That's right! I'm the King!'
Jerry Heisenberg: Making his way to the ring...from Miami, Florida by way of London, England...standing in at 6 foot 5 and weighing in at 245 pounds! He is one half of the VoW Twin City Champions! "The Punisher"...Matthew...Robinson!
Hopping up onto the apron, Robinson climbs through the ropes and into the ring, immediately walking over to the turnbuckle and climbing it. Looking out to the crowd, he points to himself and his title, yelling out 'I'm the King!' before pointing out to them and he yells 'You should all kneel before me!' Climbing back down, he stands in the corner proudly wearing his title over his shoulder and slowly cracking his neck from left to right as "Hail To The King" fades out.
WRESTLING STYLE
Robinson excels in mat technician wrestling, over the years he has learned other styles of wrestling that include brawling and submission styles.
STRENGTHS
STRENGTH ONE
His wrestling experience, a former five time NWA World Heavyweight Champion, NWA Grand Slam Champion and a three time Hall of Famer, Robinson is no stranger to the squared circle, making him a tough opponent
STRENGTH TWO
His speed, whenever someone facing him believes they are in control, in one swift moment, Robinson can turn things around and instantly gain control of the match
STRENGTH THREE
His quick temper, this can also be a weakness, however it can be a strength because of the simple fact that when Robinson see's red, he is even more dangerous and ruthless than ever
WEAKNESSES
WEAKNESS ONE
Nagging injuries, over the seven years of his career he has been involved in many gruelling matches over the years that have taken their toll on his body, he has had surgery on his neck and back as well as suffering with a few knee issues making those areas of his body weak
WEAKNESS TWO
His attitude, Robinson doesn't care about how he acts in front of people so he could easily rub someone up the wrong way and pay the consequences for it
WEAKNESS THREE
His quick temper, as alluded to before, this can be a strength but it can also be a weakness as when Robinson see's red, it could result in him making a costly mistake
BASIC MOVES

Clothesline
Knife edge chops

Full nelson slam
Half nelson slam
Corner clothesline
Dropkick
Corner dropkick
Neckbreaker
European uppercut
Gutwrench elevated neckbreaker
Leaping knee drop
Leg drop
Lou Thesz press followed by mounted punches
Multiple suplex variations (Belly-to-back, Belly-to-belly, Exploder, Side belly-to-belly, Slingshot, Super, German)
Olympic slam
Snap scoop powerslam
Swinging neckbreaker
Superplex followed by a sit-out suplex slam
Boston crab
Camel clutch
Cloverleaf
Sleeperhold
Figure four leg lock
Rake/Thumb to the eye
Low blow (when referee's distracted or knocked out)
Dirty pin (if near ropes, will place feet on them for extra leverage)
SIGNATURE MOVE(S)
The Robinson Effect (Sit-out side slam (Side Effect))

Mark Of The Punisher (Pop-up European uppercut)
(Staggers opponent and sets them up for Total Punishment)
Curse Of The Punisher (
Kneeling inverted sharpshooter)
FINISHING MOVE(S)
Total Punishment (Double knee facebreaker)
The Lock of Punishment (Bridging double chickenwing)
WEAPONS
Black Out Knee (Inverted fireman's carry dropped into a knee lift) (Used to injure or retire wrestlers)
Melissa (his sledgehammer)

PAST ACCOLADES
1x WWA International Champion
1x WWA World Tag Team Champion (w/Jason Myers)
5x NWA World Heavyweight Champion
3x NWA World Tag Team Champion (2x w/Jason Myers, 1x w/Greg "Chino" Monto)
1x NWA Television Champion
1x NWA Billion Dollar Champion
1x NWA United States Champion (first ever)
1x VoW Twin City Champion (w/Winter Pine) (current)
OTHER ACCOMPLISHMENTS
11 match undefeated streak when first debuted in WWA
1x WWA Hall of Famer
2x NWA Hall of Famer (individual and w/Jason Myers)
First ever NWA Grand Slam Champion
NOTABLE FEUDS
Jason Myers (WWA/NWA)
Seifer Black (NWA)
Ryan Omega (NWA)
Dan DiStoner (NWA)
Greg "Chino" Monto (NWA)
Steele Matthews (NWA)
Chase Michaels (NWA)
The WolfPack (NWA)
NOTABLE MATCHES
Matt Robinson def. Matt Starr and Art Vandilay for the WWA International Championship
Achilles Young def. Matt Robinson for the
WWA International Championship
Lords of Darkness (Matt Robinson/Jason Myers) def. The Renegade Outlaws (Max Hatred/Shawn Taylor) for the WWA World Tag Team Championships
Jason Myers def. Matt Robinson in a Hell's Inferno Match
Matt Robinson def. Razor in a Glass Tables Match for the NWA World Heavyweight Championship
Jason Myers def. Matt Robinson and Ryan Omega in a Triple Threat Match for the NWA World Heavyweight Championship
Matt Robinson def. Steele Matthews in a Three Stages of Punishment match
Matt Robinson def. Dan DiStoner in a
Three Stages of Punishment match
Seifer Black vs. Matt Robinson in an I Quit Match for the NWA World Heavyweight Championship (no contest; neither man quit and Seifer Black passed out therefore Robinson retained)
Seifer Black def. Matt Robinson in a Three Tier Cage Match for the NWA World Heavyweight Championship
Chelsea Armstrong def. Matt Robinson, John Stine, Chase Michaels, Chino and Seifer Black in a Championship Chamber Match for the NWA World Heavyweight Championship
Animal Instinct (Matt Robinson/Winter Pine def. Chaotic Light (James Cornett/Cali-Kate) for the VoW Twin City Championships


BIOGRAPHY
Robinson was born to David and Lucy Robinson in London, England and when he was five years of age, he witnessed both his parents murdered in cold blood after they confronted a man attempting to rob their house. Robinson found himself being constantly moved from orphanage to orphanage until he was sixteen in which he chose to fend for himself on the streets of New York where he ended up, whilst living on the streets he would learn to fight by competing in illegal fights to make money so he could survive, he would also use his fighting skills to save the lives of people in distress and this was eventually noticed by the NYPD who gave him a job as an undercover cop.
Whilst working for the NYPD, Robinson would meet the woman who would become his first wife, Heather Rose and they remained together until a jealous co-worker of his planted class A drugs on his person resulting in him being deported back to England. Later on, the two would be reunited when he decided to take the path of professional wrestling and moved back to New York and got back together with Heather, until tragedy struck and whilst pregnant, she committed suicide.
Robinson fell into a deep depression after the death of Heather and would resort to drug and alcohol abuse and nearly died as a result of it, however thanks to some help from fellow wrestlers, he turned his life around and met Stacy Jones, who he would quickly marry and they now have two children together. After five years of professional wrestling, winning five World Heavyweight Championships, becoming NWA's first ever Grand Slam Champion and becoming a three time Hall of Famer, he decided to step away from the squared circle.
Robinson and Jones would later divorce and both since have moved on with their lives, Robinson now lives in Miami, Florida with his children from his relationship with Jones, Nick and Chelsea. He has decided to return to the squared circle, why he has done so remains to be seen, but with many people from his past also here in VoW, it's certainly going to shake things up.
Robinson is currently in a relationship with fellow Visionary and Orphanage member, Winter Pine.
On the fifty-first edition of Breakthrough, Robinson would capture his first championship in VoW when he along with his
fiancé
and tag team partner, Winter Pine defeated James Cornett and Cali-Kate for the vacant VoW Twin City Championships.
TWITTER
@thepunishermr
OTHER INFORMATION
HANDLER
Matt Robinson
E-MAIL ADDRESS
thepunishermatthewrobinson@hotmail.com
MSN/SKYPE/AIM/YIM/TWITTER
Skype